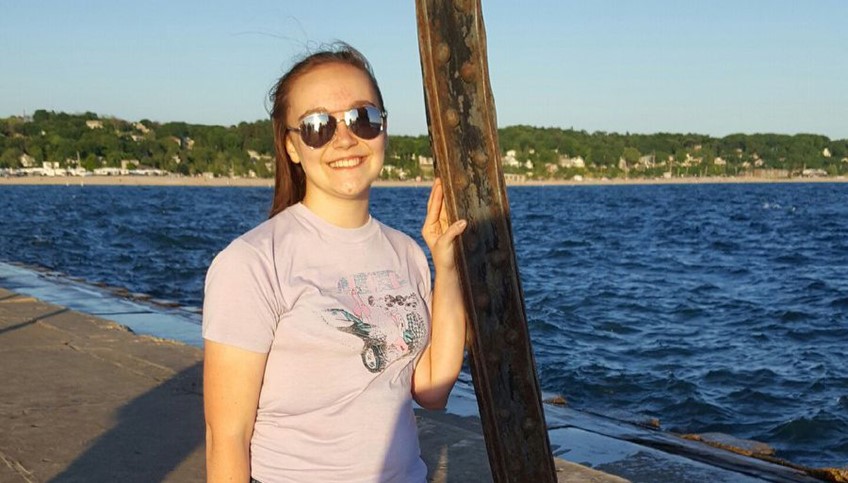 Stepping out and Trusting God
My name is Samantha, and my group and I served in Grand Rapids, Michigan, from June 19-24, 2016. When we were assigned jobs for our crew, I immediately wanted to be devotional leader. I don't know why, but it popped out of the page at me. I had been thinking for the past few weeks about leadership and if it was for me or not, so this to me was a sign. I needed to try it out. However, I was scared to death. Never had I ever led a devotional. Ever. So, I immediately started thinking okay, what should I talk about each night blah, blah, blah. I didn't even know that there were devotionals in the book for me to follow, until I started talking to one of the adults in my group about how scared I was. I felt pretty silly for reacting like I did so quickly.
So, throughout the week, I led devotions with Matthew, my boyfriend, and we did well. Our youth group was separated into two different crews, but we all went to the same worksite, so we had one big mega-crew going on. It really helped us grow together and in our relationship with Christ. In fact, he is involved in the major event that really helped shape me into a person that's bold in her faith and can trust God.
So, one night, I think it was Wednesday, Kate started telling her story about her faith. She had grown up in a church but had never really been challenged in her faith until college. She ended up going to a university that didn't have, by any means, a lot of Christians. I sat there listening to her tell her story and thought, "This is literally me. She's telling my story." You see, that is how it went for me. I grew up in the church, but I never really had to express my faith until high school. Entering freshman year I was challenged to speak up and participate in a Bible study where I learned that my faith was not nearly as strong as I thought, let alone as strong as it should be. I was kind of caught off guard, but I kept listening, knowing something big was about to happen if I was this affected by her story. And sure enough, something happened.
She told us that we were going to turn to our partner beside us, and we were going to pray for each other. I thought to myself, "Not bad." But, just kidding, because there's a catch. She told us that instead of asking our partner what they need prayer for, we're going to take about 30 seconds to ask God to place something in our minds to pray for them about. I literally almost broke down. This was my worst fear. I had no control, absolutely none, over this situation, and that scared me, really scared me. But, we started, whoever had the most blue on went first. Matthew did, so he prayed for me first. He did so well and I just started freaking out more. We got another 30 seconds to ask God about what they needed prayer for, and guess what, I had nothing. Absolutely nothing. I looked at Matthew and told him straight up, "I literally heard nothing." So, here I am, doubting God, once again, when I should've had faith in him the whole time, because duh, he's not just gonna leave me hangin'. So we bowed our heads and I just start praying for him. And all of the sudden, things started popping into my brain. As I continued, I felt God leading me to pray about this and this. It was so amazing. When we were done I was just the happiest person on earth. I felt so at peace and so bold - it was the most amazing experience I've ever had.
To this day, I continue to take little steps toward trusting God fully, and I have the missions trip, and God, to thank for that. So, in conclusion, I encourage you all to continue what you did on the trip, and to anyone who hasn't gone, or didn't go, if you do go, take it seriously. You're there for a reason, and this opportunity might be a one-time thing. So please, if you can't do it for me, and everyone who loves you, do it for yourself. And thank you to all of you who have put this trip together and carried it out! May God continue to bless you and work in your lives.