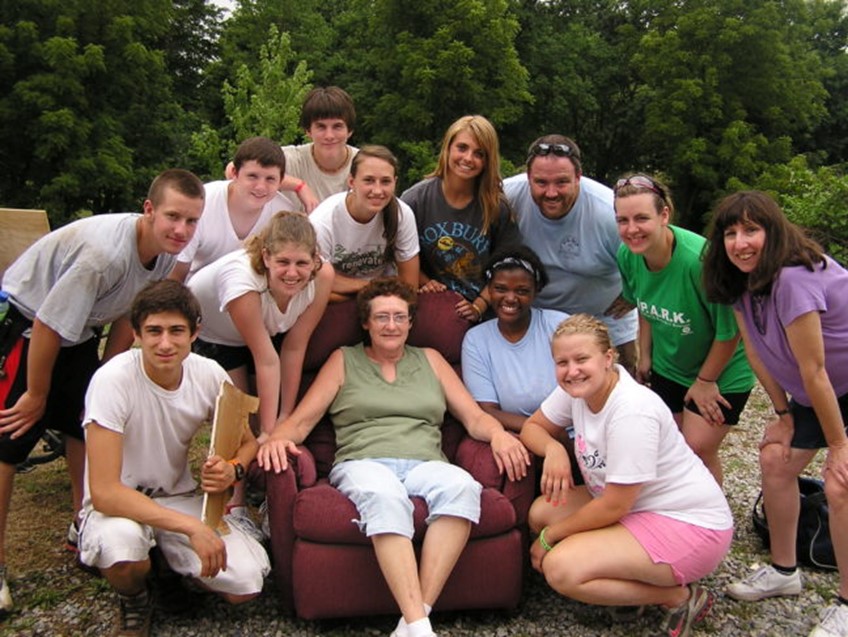 Residents Reveal Gratitude
When youth and adult participants arrive at each resident's home, they bring far more than loaded tool belts and construction materials. The relational hope offered to each resident is invaluable, and leaves such a lasting impact:
"This week has been full of joy, laughter, and spiritually uplifting. I am a disabled vet and live alone. On the first day I met my angels, I knew God had heard my prayers. Every day since my angels have arrived I have found a new spirit of living. They have worked very hard in the hot sun. I will remember this week for the rest of my life." -Cynthia M.
"Can't explain how thankful I am. Everybody is so nice and helpful, I just fell in love with everyone. Thank you so so much." -Geneva S.
"The work these youth have put into this job was superior. Everyone got along and worked in rain and humidity, no complaints. I just loved having them in my home as they brought joy to my heart. Really 
I got great blessings from each one." -Ruth N.
"Thank God for the help. It means the world. Thank God for nice giving people. I feel so blessed." -Rob S.
"This week has been a blessing! So much has been accomplished and the world has been lifted off my shoulders. This program and all of the volunteers have performed magic that never would have been done otherwise. Thank you!" -Jodi P.
"The generosity and kindness you have shown this week leaves me without words. My appreciation knows no bounds. The fact that you have taken time away from your life to help others sows the content of your character. The gifts that you have given us will be put to good use. May God shine his light upon each and every one of you." -Michelle V.
"This week has meant a lot to me. I have had some hardship in the past and did not have money to do the needed repairs. This means so much to me and my sons to get the home looking so much better. Loved all the kids too!" -Angeline D.
"The kids were all such an inspiration to me. They worked so very hard and did an incredible job. They all brought joy to my heart and I will miss each and every one. When we did devotions I could feel the Holy Spirit surrounding these young people. I would have never in a million years believed what hard working, awesome kids would touch my life the way they did." -Jane C.
"They've shown us what wonderful people we have in this world yet. These kids went above and beyond what we needed done. Thank you all so much!" -Theodore R.
"It is a blessing for me to have this done. I even look at the ramp at nighttime to make sure it's still there! I'm so happy to be able to go outside in the fresh air, and now it will be easier for my family to get me to the car for my appointments. Thank you so very much!" -Julianne E.
"I truly needed a fence, and I received so much more. The kindness and expressions of love was outstanding. To witness children working on one accord and praying was awesome. I'm grateful for this program, but I'm truly grateful that the presence of God was seen in their work, attitudes, and more. My heart is filled. Thank you, thank you, thank you." -Lady T.