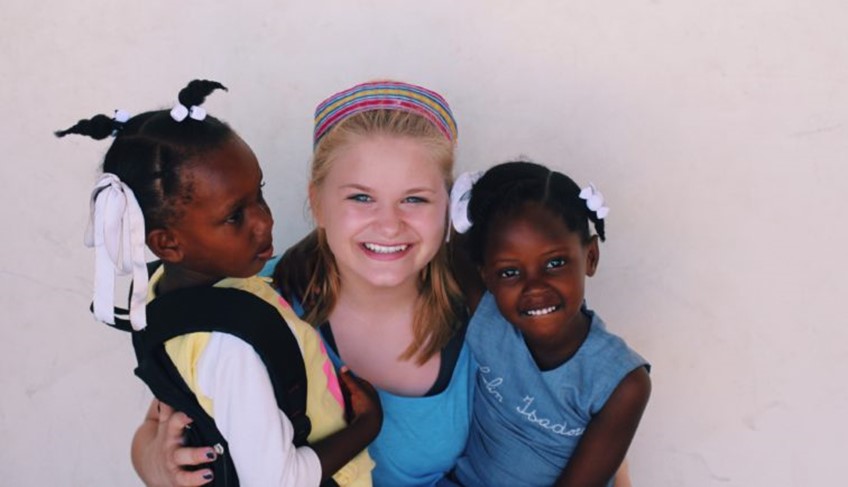 Recognizing the Call to Serve Internationally
Meet Olivia. In March, Olivia participated in her first-ever mission trip to Léogâne, Haiti. As a senior in high school, Olivia decided she wanted to do something different over her spring break and recognized her call to go. Follow along as we share Olivia's journey that led her to Haiti.
Why did you decide to go to Haiti?
Olivia: The importance of service has been instilled in me since I was young. This foundation set a standard for my disposition in life. I realized the tug in my heart that I had been feeling for some time would not be satisfied going on vacation. As a family, we had been talking about going on mission trips for years. After consulting with a pastor at my church, we were referred to Group Mission Trips!
What kinds of projects/work did you do while you were there?
Olivia: My team set forth to care for the children and expecting mothers of the town. We visited local, underdeveloped schools, where we taught sanitary classes to the children and gave first aid assistance to any of them who were injured. We made and delivered pregnancy kits for expectant mothers and spent many afternoons with local kids under the gazebo, living out the simple, yet vital gift of being present.
How were your assumptions of Haiti different than what you experienced?
Olivia: I had heard of the country's poverty and political unrest. I had heard of the economic downfall that it had been experiencing. While all of these things are factual, there isn't anything comparable to the sense of community, dedication, and faith that radiates from the Haitian people. Their smiles shine brighter than the Haitian sun (and that's saying a lot!). While Haiti may be one of the poorest countries in the world, the people are rich in love. 
What was one of the most memorable experiences for you in Haiti?
Olivia: We split into groups at a local school to teach students about sanitation, check for injuries, and give first aid. The group that was consulting with teachers to identify injured students used their basic knowledge of Haitian Creole to ask students if they needed medical care. The students who responded with injuries were then brought to where I was at the first aid station to clean and bandage minor injuries.
As my teammates were checking one classroom, they noticed a little boy that was shielding his face, seemingly hiding from them. Upon realizing this, my teammates went to examine him. The young boy had a very swollen eye, and it was obvious that he needed more advanced medical attention than first aid could offer. We contacted medical personnel to come.
We found out that his swollen eye was caused by a gruesome virus, and in Haiti, even the most simple viral infections can pose serious health complications. Our team was told that by us referring this young boy to receive medical attention, he was given the care needed to potentially save his life.
How did you personally grow on your trip?
Olivia: My faith grew immensely while in Haiti, and it hasn't stopped there. From singing worship songs as a group at our home base to attending church under the gazebo with the local people, I saw that the Lord is just as present in my home as He is in Haiti.