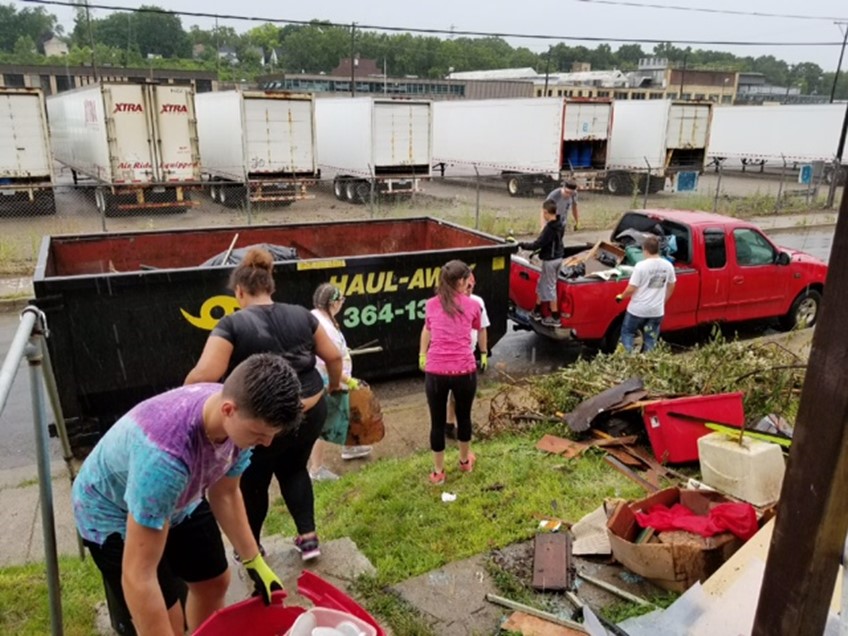 How God Used Our Crew to Save a Family
This week in Grand Rapids, God began to work almost immediately. Each member of the crew has to choose different roles and usually this is or can be a somewhat difficult task - teens either being anxious or complaining about certain things. But this group slid right into the roles with no question and everyone was satisfied, even happy. We also bonded and laughed together almost from the get-go and it was obvious to me that this little crew really wanted to do something significant for Jesus. We talked about how we were willing to do whatever it would take to see it through.
We were told on Sunday evening what our task was going to be. We were to work with a Christian community center (United in Christ Ministries - UICM) that runs a bike repair shop (they teach kids to repair bikes and give them to those in need or sell them to raise funds for their outreaches) and several other incredible programs for an extremely poor community in the Grand Rapids area called Black Hills. We were expecting to work in kids' programs or in the bike shop, but God had a different plan...
When we arrived, Joyce, one of the directors of this beautiful ministry who has moved into this neighborhood to build relationships and love the families she works with, told us we would be serving a mother with physical and mental handicaps that has a 19 year old daughter who has her own challenges as well as a son with high functioning autism. The daughter has a baby girl of her own who is just shy of one year old. The boy has grown up with this community center and knows his future is bright because he is so loved by his family as well as the people of the UICM. Despite his challenges, he is extremely intelligent and determined, and they honestly believe he could run their bike shop himself if he had to. When he comes of age, they already plan to hire him. But, Joyce told us that if someone didn't help this family's housing situation soon, it was likely a neighbor will call CYF, and this family will be torn apart for good.
As soon as we met them, we saw this was a beautiful family. They leaped into our hearts almost immediately with their sweetness and cheerful faith despite the extreme challenges with which they were now faced and their complete lack of means. When we arrived, we found their house was a complete top to bottom clean up job - it was like an episode from hoarders. Every room was stacked with plastic bags and garbage so you could not see the floor. Please understand, this wasn't due to things they couldn't help keeping like a traditional hoarder. They wanted it all to be clean and gone, but they simply don't have the ability to process the complex problem of cleaning such an overwhelming amount of refuse and had no money whatsoever for home repairs. Still, it was heart breaking as we stood there and watched the beautiful baby girl crawl over and through this. They had no stove or oven, and had only two working outlets in the entire house. The back of the house needed to be torn down, but in the midst of the current circumstance rain water poured through a roof that a dishonest contractor told them he fixed. There was also an exterior door on the second floor with a broken/missing window that rain, flies, and whatever else just came through continuously. Hence, there were 20 or so waterlogged bins and boxes of infested items in the back of the house, as well as exposed insulation covered in black mold and nothing to keep or prevent pests from entering at the top of the stairs where the broken window was. The stench from must and rot ranged in a scale depending on where you were in the house.
In the other Group Mission Trips I've taken, I like to serve as an encourager, letting the 'Work Director' and the teens take most of the initiative and stretch their problem solving skills. But, this situation, at least to begin with, I assessed as a little different. I immediately told the crew that the only two who could work inside the back room would be Quentin, who just turned 18 the day before, and myself. We got masks and gloves and the crew started to work hauling things Quentin and I placed in the back yard, filling the pick up truck that belonged to UICM and making runs to their dumpster. This effort took most of the first day. We tore out all of the drywall and moldy insulation in the room down to the studs and sprayed bleach ceiling to floor. The next day we spent hauling out what had to be an honest assessment of somewhere between 2000-2500 lbs of trash...everything was infested with every kind of thing you can imagine. After we had discovered the desperation of the situation, the UICM made arrangements to have us leave and immediately shower at the downtown YMCA after work each day and the incredibly gifted and capable 'Red Shirts' (Quinn, Tyler, and Maddie, as well as Jane, who volunteered) took our crews' clothing each day and washed it at a local home as soon as we got back.
On the second day, we had no more room for trash. The dumpster behind the center had been filled and taken away and filled again and the dumpster company said they wouldn't come again to get it until the next week. The pick-up was full and the front yard was filled with trash. After talking with the crew and evaluating the situation, we decided we needed to just rent a roll off dumpster. There was just too much left to be done to get this family safe in their home to leave it at this point. Within an hour, the executive director of UCIM, Troy, had the roll off on its way, and we signed the paperwork when it arrived.
The roll off came but could not fit in the driveway. The driver was going to leave, but God moved in his heart, and when he saw what we were doing, he agreed to leave the dumpster in the street (illegally) until the end of the day. The moment the driver pulled away, it started to pour down rain. Knowing we only had a few hours with the dumpster and so much more to haul out, our crew dug down deep and put it into overdrive despite not being able to see through the driving sheets at some moments. We all started hauling and throwing bags and boxes and old, rotting furniture and boards that weighed 30, 40, 50 to a 100 pounds or more out of the house and into the dumpster. Drenched and exhausted but motivated by the love of Jesus and the sweetness of this family whom the world seemed to forget, the little crew lugged disgusting load after disgusting load against their teenage bodies and heaved. Megan is a 16 year old ballerina who recently was diagnosed with scoliosis. We prayed over her back each day and she hasn't missed a beat or complained of a single ache, working and lifting and cleaning just as hard as anyone else. In fact, these kids didn't complain about anything - at all. 17 year old Shayne sometimes seems as strong as Captain America, and he's willing to jump into any need before you're even done asking the question. 16 year old Kaya is our "Mr. Fix-It." He wants to be a mechanic and he got an old lawn mower we found in the back yard working. They said it hadn't been running for at least a year. He diagnosed the need for oil and a new spark plug and once he had that, he jimmy-rigged some loose wiring with a bread tie. The mower roared to life, and he was then able to mow the 2 ft tall grass and weeds all around the house. He also spent his own money that night on screws and caulking and the next day fixed the staircase, securing the steps and railing that were all sliding right out from under you when you walked up and down. He then got up on the somewhat precarious deck over the back room and sealed what the roofer had not.
After helping the UICM set up for a community dinner they hold each week, we left the third day with a dumpster piled high with trash and refuse of all kinds. I would estimate a little more than an additional ton had been moved out of that house by our six person crew that day. We were drenched, and really smelly, and tired, but felt for whatever reason that God was in all of this - every moment of it...like we were specifically chosen for this and being guided with every lift, every partnered hand off and person to person train, every conversation with the family and every communication we had with one another as we made our way from room to room. We had continual joy, and the harder we worked, the harder we laughed. Honestly, we all just hoped our efforts would make the kind of difference we felt it should.
...and then...Later that night after we left, I got a call from Joyce...She explained that she had run up to the house to see if the dumpster had been taken. She wanted to see if they would move it to the parking lot of a church so we could move some more furniture into it the next day. However, when she got there, the police were there. She started to explain that the dumpster was to be moved but the police informed her they weren't there for the dumpster. They were there for the kids. My heart sank as she told me someone had, indeed, called CYF.
The officers began listing to a dismayed Joyce the items in their report. Someone told them there was mold in the back of the house. Joyce became overjoyed as she was able to explain, and even show them, it's all gone and that the insulation is out and the studs bleached. Everything was in the dumpster. They began to ask about the kitchen and other items that had been mentioned to them, almost all of which had been addressed by that point. She told them that while the work is being completed over the next several days, the boy would live with her and the young mom and the baby were going to be with friends. The only one there was the mother so she could help sort as we continued our work. The police evaluated the situation and were satisfied with the progress and left. Joyce closed the call by saying, "Do you understand this, Vince? If your crew hadn't been sent by God for this assignment this precise week, and if you hadn't have rented the dumpster and accomplished all you guys did, this family would be split up and the kids would have been taken away for good. We likely would not ever see (the boy) again." I choked up and wept as I realized this beautiful little family could have ended without recourse and that promising boy could have been taken away from every support in his life.
The final day was more trash hauling and cleaning. There's still some of that to do as well as drywalling to be done, though the water damage has been removed and the surface is prepped. There's a lot of painting future crews will have to do to get the house sealed. But, I think this family is gong to be able to make it now.
I'm 47 years old, and I've done a lot of mission trips, but I don't know that I have ever left one feeling as though God was guiding every step, every prayer, every effort as much as He has on this one. And I'm not sure if anything I've ever done - so simply and in just four days - could have such lasting results in God's Kingdom.