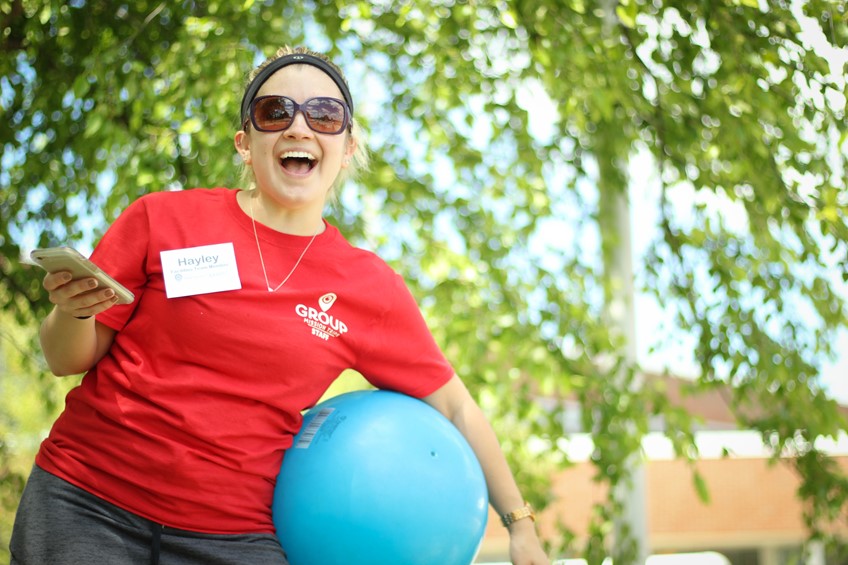 Group Employee Confronts Doubt During Workcamps Experience
Written by Hayley Bancroft, Project Manager, Group Mission Trips
I joined the Group Mission Trips team in June as a Project Manager and work alongside coworkers who are passionate about service, people, and Jesus. They challenge and support me, encourage laughter and hard work, and foster community every day.
I was new to the whole Workcamps world of Group when I started. I had never attended a workcamp, or any mission trip for that matter, and didn't know what I was getting myself into. Fortunately, my team was excited to send me to my first Workcamps experience in Rushville, IN. 
Once I arrived, I was nervous and felt out of my element, yet I was confident God put me at his camp for a reason. I could hear God loud and clear, but I was tentative to open up and be me. My doubt was strong. It wasn't until I met Chip, the Cosponsor and the glue of the Rushville Workcamp, that I felt at ease.
When you meet Chip, it's evident he loves his town, his people, and Jesus. No words can describe his rambunctious personality, booming laughter, and genuine soul. He was present at programs and connected with staff, participants, and volunteers during free time. His goal was to love as many people as possible, while making it the best week ever. Chip also planned a private concert for the Rushville Workcamp starring We Are Messengers, a Christian band I instantly fell in love with.
During the Q&A section of the concert, Chip called me on stage to ask my question to the band. Truly, I do not think I have ever been more nervous or uncomfortable. I asked my question about doubting God, and could feel the mood in the auditorium shift. All eyes honed in on me and without hesitation, Darren, the lead singer, asked Caleb, the guitarist, and Chip to place hands on my shoulders. The whole room began praying for me, for my doubt in God, and for restored trust and faith. While my question was specific to Darren's doubt in God, he knew the question on my heart was about my doubt in God and answered it fully.
This is one of the many ways God has met me since I joined the team at Group Mission Trips. The answer to my doubt in God is and forever will be prayer. On that day in Rushville, standing on that stage, God made this very clear. God was present in that moment, more present than I would have ever anticipated, and showed me the purpose for my trip, my new job, and my new life with Group Mission Trips. God had a plan to put me on that stage in Rushville. God always has a plan.